Talk about a bike we've been eagerly awaiting…what an understatement!   The Rocky Mountain Instinct is one of our favorite uber versatile trail bikes given its ability to morph its geometry with Ride 9 adjustment.   It's true that there are some exciting 2018's starting to emerge, but the Instinct sits atop of the pack.
The latest edition of the Instinct brings technology from the awesomely redesigned Slayer.  Along with more progressive geometry, higher anti-squat for increased pedaling performance and clearance for 2.6″ tires, its SUPER svelte! 5.09lbs for the standard 140mm travel model and 5.62lbs BC Edition (155mm travel).  In addition to the
Instinct
, the plus tired
Pipeline
also receives the same updates.
 Here are the dirty details from Rocky Mountian:
---
Intended use: Trail
Wheel size: 29″ (27.5+ ready)
Front travel: 140mm
Rear travel: 140mm
Stable and aggressive, the Instinct is our most versatile trail bike.
With 29″ wheels and a wide range of RIDE-9™ adjustments, the all new Instinct is available in both carbon and alloy models. An all-new frame for 2018 pushes the rear travel to 140mm, increasing stiffness and tweaking the suspension kinematics. Despite the increase in travel, the new frame has noticeably more efficient pedaling, with better small bump sensitivity and a host of next-generation features.
Intended use: Aggressive trail
Wheel size: 29″ (27.5+ ready)
Front travel: 160mm
Rear travel: 155mm
Born in BC, we've turned the Instinct BC Edition into an aggressive trail monster.
Designed with an optimized link and long stroke shock that provide155mm of rear travel and ultra-aggressive geometry, we've kitted out the Instinct BC Edition with wide bars, big tires, ultra-stiff wheels, and more capable suspension. It smashes all mountain lines, rails corners, and plows over everything in sight, while displaying all the climbing efficiency that makes the Instinct a crowd favourite.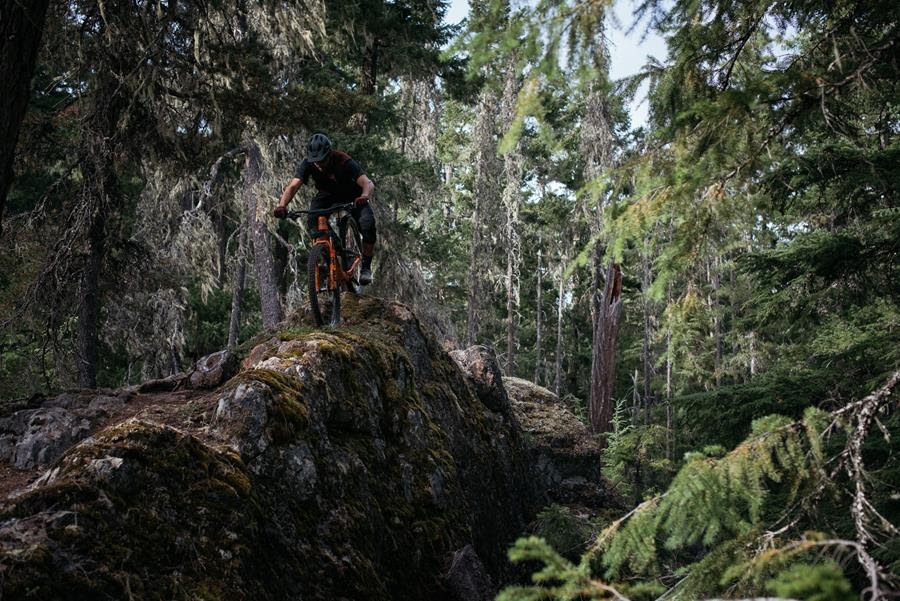 "I can't believe how much fun I've had riding the new Instinct. I was blown away by how effortlessly the bike carries speed, while improvements to the geometry and stiffness keep it nimble and stable. The Instinct has handled every type of terrain I've thrown at it and even opened up new lines for me on trails I've been riding for over a decade." — Thomas Vanderham
Improved suspension performance
We've increased overall progression and support at sag, while making small bump performance even more sensitive. Higher anti-squat values dramatically improve pedaling efficiency.
Next generation features
Comprehensive evolutionary updates across the platform include features like tooled axles, single-sided bearing pivots, integrated "spirit guide" chainguide, boost spacing, and metric shock compatibility.
Updated RIDE-9™
Our RIDE-9™ system provides a wide range of geometry and suspension adjustability; it has been moved into the link for lighter, narrower packaging. Instinct BC Edition, with its increased travel, comes with a single mounting position in its link to provide the best balance of travel and geometry.
Progressive geometry
To add control and descending capability, we've increased reach, slackened the headtube angle, and lowered the bottom bracket. We've retained short chainstays to keep the bike agile, and used a moderately steep seat tube for efficient climbing performance.
Technical Details:
Increased anti-squat for better pedaling efficiency
29" Wide Trail and 27.5+ compatible
Max tire clearance is 29 x 2.6, and 27.5 x 2.8 (3.0 with low profile knobs)
Bearings at all pivots, including at lower shock mount (compatible with aftermarket shocks as well)
Blind pivots maximize heel clearance
Lighter, tooled rear axle
All Instinct models include the FSA extend-O-matic headset. The bike ships with a second (taller) headset bottom cup, which allows the rider to opt for 27.5+ wheels without negatively affecting handling, and no fork swap is required.
Improved cable management: large headtube ports, full shift housing, large downtube access port, and internal shift and brake housing within the front triangle
Future-proofed to be compatible with Di2, Fox Live, and a dropper post simultaneously
Seat-tube lengths have been adjusted to accommodate longer dropper posts at maximum insertion.
Chainstay and downtube protectors. *Due to production delays, the initial shipment of 2018 Instincts will not include chainstay and downtube protectors. They will be shipped to shops as soon as they're available. The October shipment will have them installed.
Integrated "Spirit Guide" chainguide, with 2-bolt ISCG05
BC Edition features a dedicated link delivering 155mm of travel and fixed geometry
1x optimized design with wider main pivot
Lower standover height
Significantly stiffer thanks to a one-piece seat stay, new envelope, and updated layup (47.7% more lateral stiffness)
Modern parts compatibility (boost spacing, metric shock lengths, post-mount 180mm brakes, etc.)
All sizes fit a water bottle in the front triangle, even with a reservoir shock
Sizes: S-XL
Weight:

Frame & shock: 5.09lb (2310g), size Medium
Frame & shock: 5.62lb (2550g), size Medium, Instinct BC Ed.
Protectors, chainguide, & axle: 0.57lb (260g)
Instinct Carbon 70 complete: 27.4lb (12.4kg), size Medium
Instinct Carbon 90 BC Edition complete: 29.5lb (13.4kg), size Medium
Intended use: Aggressive trail
Wheel size: 27.5+ (29″ ready)
Front travel: 140mm
Rear travel: 140mm
The all-new Pipeline combines the confidence of plus-sized tires in raw, technical terrain with an aggressive trail chassis.
An all-new 2018 Pipeline frame pushes the rear travel to 140mm, increases stiffness, adjusts the suspension kinematics for more efficient pedaling and better small bump sensitivity, and gives the frame a host of next-generation features. Available in both carbon and alloy models, the Pipeline plows through greasy roots and square-edged chunder with authority, while providing near limitless traction on rocky, slippery climbs.
"With its plus tires, the Pipeline lets my imagination run wild with what is possible on the trails. It allows me to do all of the crazy things that I can think of." — Jesse Melamed